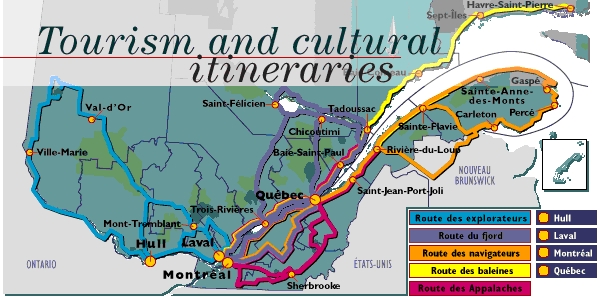 Highways and Byways: Itineraries and holiday resorts

Urban Delights: Québec, Montréal, Laval and Hull
---
Highways and Byways
As you roam through Québec, you'll be astounded by the variety of landscapes - not one of the regions of Québec is like any other. Some are places of serene beauty, while others have a wild grandeur all their own. Exploring Québec means travelling the back roads and stopping as the fancy takes you. Perhaps you'll arrive in the midst of a country fair and get caught up in the action. Take time to talk to the locals, to listen to the music of their speech, to discover their legendary know-how and to sample some typical regional dishes.
We've outlined five different itineraries to help you get the most out of your visit. The province has an extensive system of roads and highways - more than 20,000 kilometres (12,420 mi) in all. They are well signposted, with lots of services and amenities along the way. Don't be surprised if the road you're on ends at the water's edge. Just hop a ferry and you'll be on the other side before you know it. It's a great opportunity to get out from behind the wheel, stretch a bit and cool off in the refreshing breeze!
The Explorer's Route 1760 km (1100 mi) / 5 days: This itinerary takes you into the heart of Abitibi-Témiscamingue, a vast land of forests dotted with countless lakes.

The Fjord Route 1415 km (880 mi) / 7 days): The Saguenay-Lac-Saint-Jean region was sculpted by glaciers eons ago. Its pride is the magnificent Fjord du Saguenay, most of which lies in a remarkable conservation park.

The Navigator's Route 2220 km (1378 mi) / 14 days: Follow in the wake of Jacques Cartier and his fellow explorers down a route packed with history, paralleling the St Lawrence as it flows toward the Atlantic.

The Whale Route 2400 km (1490 mi) / 14 days: Whale-lovers flock to the St. Lawrence estuary, where a number of different species come to cruise the waters in season.

The Appalachian Route 1215 km (755 mi) / 7 days: This route winds among the verdant hills and valleys of the Estrie, or Eastern Townships, and the fertile lowlands of the Montérégie region. On the horizon lie the rounded peaks of the Appalachians.
These five Itineraries embody thirty-one segments.
What better way to round out your tour than to spend a few relaxing days in the idyllic surroundings of a holiday resort? Québec boasts a broad range of accommodation in splendid settings, many of which are by the water, gazing up at mountains or overlooking lush valleys. Most of these establishments are part of tourism networks and offer attractive packages combining comfortable facilities with fine cuisine and a multitude of activities.
---
Urban Delights
Québec's major cities are a perfect marriage of North American modernity and European elegance, and the ideal point from which to observe and discover a people and culture unique in America.
Some, like Laval, are on islands; others, like Hull, spread out their charms alongside a river. While each reveals a different side of Québec, they all share a number of attractions, including an appealing cultural life, top-quality hotels and some of the finest cuisine on the continent.
There's no danger of boredom in Québec's cities. Year-round, you'll always find something to do or see. Art exhibitions, shows, museums, theatre, music... and nightlife that just goes on and on.
Because Quebecers are so fond of the great outdoors, they have done their best to bring plenty of nature into their cities. Not only are there huge parks in the midst of the urban landscape, where you can walk, cycle, skate and cross-country ski, but just minutes away you'll find forests, lakes and mountains.
Québec's cities, with their combination of culture and nature, offer a lifestyle that's hard to beat.
---