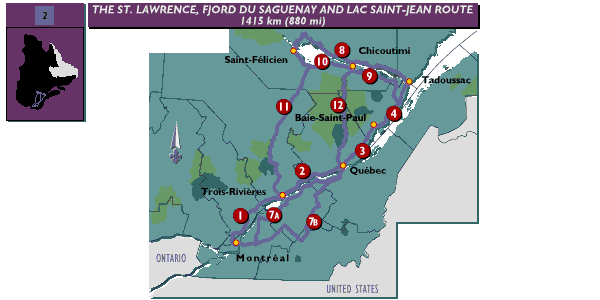 Explore the different segments that make up the Fjord Route...
---
The Saguenay-Lac-Saint-Jean region was sculpted by glaciers eons ago. Its pride is the magnificent Fjord du Saguenay, most of which lies in a remarkable conservation park. The best way to view these breathtaking cliffs looming over this part of the Saguenay, is by taking one of the many boat cruises that depart from Chicoutimi and a number of villages along the river. Look closely and you'll find charming villages like L'Anse-Saint-Jean and Sainte-Rose-du-Nord nestled amongst the imposing cliffs and headlands of the fjord.

---
A Kingdom to Explore
Every summer, the residents of La Baie mount a stunning historical pageant,
La Fabuleuse Histoire d'un royaume
, that recounts the history of the 'Kingdom of the Saguenay." For its part, Chicoutimi boasts among its many attractions La Pulperie, a pulp mill that was one of the largest industrial complexes in Québec at the turn of the century, now a highly popular exhibition and interpretation centre.

Explore Lac Saint-Jean, a vast inland sea, by taking a cruise from Roberval, Alma or a number of other towns lining the lake. While in the area, don't miss Val-Jalbert, a ghost town set at the foot of a waterfall, where you can see what life in a company town was like in the 1930s. And learn about the Montagnais Indians, the region's original inhabitants, at the native museum in Mashteuiatsh. To experience a novel kind of zoo, visit the one at Saint-Félicien: visitors can take a miniature train ride for a close-up look at bison, bears, moose, and many other animals roaming freely.

A Tale of Two Rivers
The Saint-Maurice is another great river, tumbling through the game-rich forests of the Coeur-du-Québec region. At Grandes-Piles, on its east bank, the Village du bûcheron is a faithfully reconstructed logging camp from the turn of the century, and a reminder of the rough conditions endured by lumberjacks in those days. On the other bank, La Mauricie National Park promises moments of unforgettable splendour for hikers and canoe-campers. At Grand-Mère, a theme park called Village d'Émilie recreates the highlights of one of Québec's most popular television series,
Les Filles de Caleb
, a historical saga broadcast in English as
Emilie
.

In Trois-Rivières, where the Saint-Maurice and the St. Lawrence join forces, the historic quarter is definitely worth a visit, to hear the stories the age-old stones have to tell about Québec's earliest years. It's also a great jumping-off point for an excursion on the St. Lawrence. The Forges du Saint-Maurice is an important national historic site commemorating Canada's first iron foundry, established in 1730. And at Cap-de-la-Madeleine, the Sanctuaire de Notre-Dame-du-Cap is a renowned pilgrimage site that dates back to the same era.

---