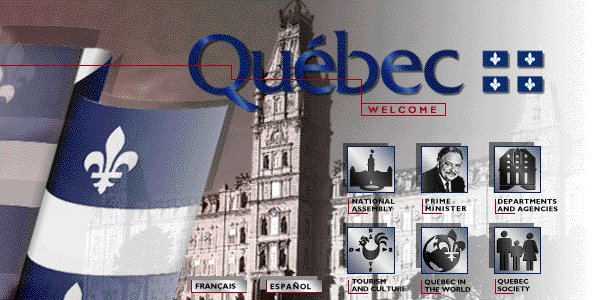 Welcome to the Government of Québec's WWW site
You're the 46234th person to visit us. Thanks for stopping by !
Français | Español
---
Start your visit with a message from Québec Prime Minister Jacques Parizeau. In addition to his official welcome, you'll find his biography, most recent speeches and press releases, and agenda. You can also read the report of the National Commission on the Future of Québec.
The government of Québec's departments and agencies as well as the National Assembly have provided a multitude of information on their mission, programmes and activities. To find out more about Québec, you can also consult the sections on Québec Society and Québec in The World.
Finally, we invite you to take a virtual tour of Québec: the Tourism and Culture section contains several itineraries that will help you discover Québec's cities and villages, its tourism attractions, its cultural heritage, and lots of other things.
And of course, the What's new section will keep you up to date on recent developments at this site. Have a good visit !
---
Site development
Last update : May 4, 1995