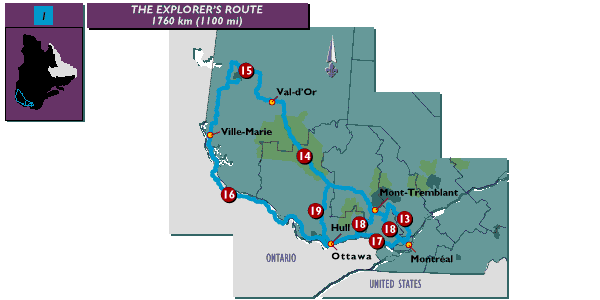 Explore the different segments that make up the Explorer's Route...
---
This itinerary takes you into the heart of Abitibi-Témiscamingue, a vast land of forests dotted with countless lakes. Back in the 17th century, French merchants established a fur-trading post at Fort Témiscamingue, close to modern-day Ville-Marie. The region had been explored long before by the coureurs de bois (frontier woodsmen and fur-traders), when a gold rush brought swarms of miners seeking their fortunes to Abitibi in the 1930s.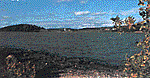 ---

The Village minier Bourlamaque, in Val-d'Or (the name means "Valley of Gold"), and Maison Dumulon, in Rouyn-Noranda, offer visitors an authentic taste of the pioneering spirit that lured settlers to the region in those days. You can make a simulated descent down a mining shaft at the regional mining museum in Malartic, explore the magnificent Parc d'Aiguebelle, or make a 900 km (560 mi) side trip north to James Bay to visit La Grande-2, the largest underground hydroelectric powerhouse in the world.

Where History Meets Nature
The Outaouais region is also renowned for its forests and abundant wildlife. Explore the woods or one of the 4000 lakes and rivers in the immense Réserve faunique de La Vérendrye (13,600 km2/5250 sq mi), or visit the Château Logue in Maniwaki to learn about modern forest-firefighting techniques. Along the river, halfway between Hull and Montréal, the Réserve faunique de Plaisance is home to many different species of birds and mammals. Just a few kilometres down the road, in the park surrounding Château Montebello, don't miss the Manoir Louis-Joseph-Papineau, home of the leader of the 1837 Patriotes rebellion.
Up-Country Adventure
The Laurentians (Laurentides), one of the oldest mountain chains in the world, have given their name to a region dotted with towns and villages full of turn-of-the-century charm. Two of the region's parks are highly popular in both summer and winter with outdoor enthusiasts: Parc du Mont-Tremblant, whose highest peak is close to 1000 metres (3280 ft), and Parc d'Oka, with its sandy beach and Stations of the Cross dating from the 18th century.
An Indian Legend

In Rawdon, in the picturesque Lanaudière region, Earle Moore's Canadiana Village shows visitors what rural life here was like in the last century. Try your hand at deciphering the Indian legend in the stone at the waterfalls in Parc des Chutes-Dorwin. Near Saint-Jean-de-Matha, feel the pulse of the rushing waters of the mighty Rivière L'Assomption in the Parc des Chutes-Monte-à-Peine-et-des-Dalles. The art museum in Joliette boasts a magnificent collection. And if you're visiting in summer, take in a classical music concert during the prestigious Festival international de Lanaudière.
---