Just off the major tourist itineraries you'll find numerous resorts that offer fine cuisine, comfort and as much relaxation as you want, all wrapped up in a natural green ribbon and scented with fresh air. The network of tourist resorts, a vital link in the Québec hotel industry, offers a wide variety of customized packages, for a few days or a few weeks. Here you'll find all the facilities and activities you could possibly hope for, at any time of the year.
---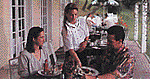 In summer, warm up with a tennis game in the morning, then enjoy the afternoon sun on the golf course. Hop on your bicycle, or saddle up a horse, and just go exploring. Later you can slip into the crystal waters of a lake with just the mountains for company. In winter, build that perfect snowman you've always wanted to make, strap on the boards and hit the slopes (they're never far away), explore the peaceful woods on snowshoes, or go for miles across frozen lakes on cross-country skis or a snowmobile. Set your spirit free and let it guide you; you'll return home fit and well-rested.
Dream Vacations
The Laurentides, the Estrie, Charlevoix and the Îles-de-la-Madeleine are four of the province's most popular resort regions.

The Laurentides enjoy an international reputation. Here among the mountains and lakes, dotted with storybook villages and overflowing with activities (Sainte-Adèle, Saint-Sauveur-des-Monts, Sainte-Agathe-des-Monts, Mont-Tremblant), you'll find a veritable vacationer's paradise.
The Estrie offer sparkling lakes (Memphrémagog, Massawippi), well-known tourist centres (Bromont, Magog/Orford), and an astounding variety of things to do: golf, cycling, horseback riding, water parks, skiing and much more.

Charlevoix means the majestic St. Lawrence, headlands, peaks, meadows and rushing streams. It's no surprise that this is where the first resorts in Canada originated. Today, the region is famous for its first-class hotels and cuisine, an all-new casino to open in summer 1994, and a golf course framed by the mountains and the St. Lawrence, at Pointe-au-Pic.

The Îles-de-la-Madeleine lie 215 km (135 mi) off the coast of the Gaspé peninsula, with long sand beaches caressed by Atlantic breezes. Accessible by air and ferry, the islands are popular not only with vacationers looking for calm and a complete change of scene, but also with windsurfers and bird-watchers.

---