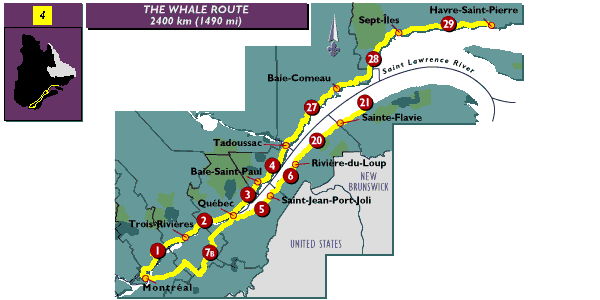 Explore the different segments that make up the Whale Route...
---
Whale-lovers flock to the St. Lawrence estuary, where a number of different species come to cruise the waters in season. The best observation points are the Pointe-Noire promontory, at Baie-Sainte-Catherine, and Cap-de-Bon-Désir, at Grandes-Bergeronnes, two exceptional natural sites connected to the Saguenay Marine Park (Parc marin du Saguenay).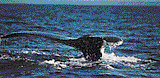 ---
A Land of Art and Beauty
The Whale Route takes you through the Charlevoix region, with its grandiose and inspiring landscapes. Baie-Saint-Paul is home to many artists, whose work can be seen in the numerous local galleries and art centres. You can move on to Île aux Coudres to take in the region's crafts, its derelict schooners, 19th-century windmills and pastoral setting. At Saint-Irénée, between Baie-Saint-Paul and La Malbaie, enjoy superb summer concerts in the intimate surroundings of Domaine Forget.
For another side of Charlevoix, the Parc des Grands-Jardins offers hikers, mountain bikers and canoeists a small taste of Québec's Far North, just 120 km (75 mi) from Québec City. Another must-see is the Parc des Hautes-Gorges-de-la-Rivière-Malbaie, where you can take boat cruises and crane up at its breathtakingly steep cliffs.
Towards the Côte-Nord
Tadoussac, with its marine mammal interpretation centre (Centre d'interprétation des mammifères marins), is the gateway to the Manicouagan region. Along with Baie-Sainte-Catherine, Les Escoumins and Pointe-des-Monts, it is one of the main departure points for whale-watching excursions.
At Baie-Comeau, you can leave the coast and head north to Manic-Cinq, to admire the enormous Daniel-Johnson dam, whose lines of arches and buttresses are elegant symbols of its immense power.
Natural Wonders
The coastline of the Duplessis region is both wild and accessible. In Sept-Îles you can walk around the Vieux-Poste, a reconstructed Montagnais trading post, learn about regional history at the Musée régional de la Côte-Nord, and visit the Parc régional de l'Archipel-des-Sept-Îles, an ideal place for observing seabirds and marine mammals. From Longue-Pointe, Mingan and Havre-Saint-Pierre, take a boat out to say hello to the whales.


Another awe-inspiring sight awaits you in the Archipel de Mingan, with its fascinating monoliths; Île d'Anticosti, farther out in the St. Lawrence, is famous for its sea-sculpted coast, its gorges, rushing rivers and caves. If you're curious to see what lies beyond the end of the road on the lower North Shore, you can easily go coast-hopping by boat, visiting the isolated communities dotted along the coast as far as Labrador.
---