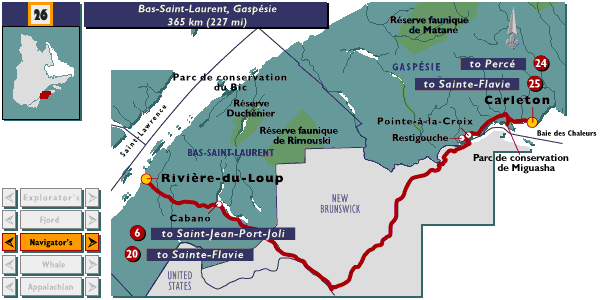 ---
From Carleton to:

Percé (segment 24)

Sainte-Flavie (segment 25)
---
Segment 26: From Carleton to Rivière-du-Loup

Carleton
Beach

Mont Saint-Joseph
Panoramic view from the mountain. Hiking trails.
Parc de conservation de Miguasha
Fossils of about 20 species of prehistoric fish have been buried in the cliffs of this park for over 370 million years, earning this site an international reputation. Interpretation center (7 km/4.5 mi from Nouvelle) and permanent exhibit.
Pointe-à-la-Croix
Battle of the Restigouche National Historic Site
The story of a naval battle and artifacts from the French frigate Le Machault, sunk in 1760

Restigouche
Centre d'interprétation de la culture micmaque
Interpretation center with artifacts and art illustrating the history of Micmac habitation on the peninsula.
Cabano

Lac Témiscouata
Beach.

Fort Ingall
Defence post erected in 1839 and rebuilt in 1973.
Rivière-du-Loup
Heritage tour
Take a walking tour and discover the architectural heritage of Rivière-du-Loup.

Parc de la croix lumineuse
From this park with its illuminated cross, look out over the St.Lawrence River, which is 23 km (14 mi) wide at this point.

Waterfalls
Visit these 30-meter (98 ft) waterfalls in the heart of the city.

Cruises
Observe marine wildlife and bird colonies or visit the islands: Île aux Lièvres, Îles du Pot à l'Eau-de-vie (lighthouse, eider ducks), Les Pèlerins (razorbills and other nesting birds).
---
From Rivière-du-Loup to:

Saint-Jean-Port-Joli (segment 6)

Sainte-Flavie (segment 20)
---