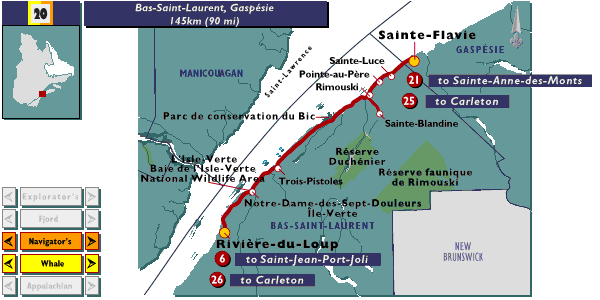 ---
From Rivière-du-Loup to:

Saint-Jean-Port-Joli (segment 6)

Carleton via Cabano (segment 26)
---
Segment 20: From Rivière-du-Loup to Sainte-Flavie
Rivière-du-Loup
Heritage tour
Take a walking tour and discover the architectural heritage of Rivière-du-Loup.

Parc de la croix lumineuse
From this park with its illuminated cross, look out over the St. Lawrence River, which is 23 km (14 mi) wide at this point.

Waterfalls
Visit these 30-meter (98 ft) waterfalls in the heart of the city.

Cruises
Observe marine wildlife and bird colonies or visit the islands: Île aux Lièvres, Îles du Pot à l'Eau-de-vie (lighthouse, eider ducks), Les Pèlerins (razorbills and other nesting birds).
L'Isle-Verte

Île Verte
Tour the island, accessible by ferry, on foot and savor its tranquility. Visit the oldest lighthouse on the St. Lawrence River, built in 1809.
Baie de l'&Isle-verte National Wildlife Area
Observation of wetland vegetation and wildlife in a reserve. Bird sanctuary.
Trois-Pistoles
Notre-Dame-des-Neiges Church
Church with remarkable architecture.

Île aux Basques
The island, accessible by boat, is a bird sanctuary and archaeological site.
Parc de conservation du Bic

Park featuring a natural harbor, with islands, wetlands, cliffs and reefs sculpted by the sea. Lookouts. Hiking trails. Mountain bike rentals. Seal watching. Cap-à-l'Orignal visitor reception center: 8 km (5 mi) from Le Bic and 5 km (3 mi) from Saint-Fabien.
Sainte-Blandine
Centre éducatif forestier de Macpès
Forest education center near the spectacular site of the Portes de l'Enfer gorge. Nature interpretation. 12 km (7.5 mi) from Sainte-Blandine.

Rimouski
Maison Lamontagne
18th-century house and exhibit on archaeological research.
Pointe-au-Père
Pointe-au-Père Lighthouse National Historic Site / Musée de la mer
Lighthouse and museum housing an exhibit on the history of this maritime region and on the sinking of the Empress of Ireland.

Réserve nationale de faune de la Baie de l'Isle-Verte
Observation de la flore et de la faune des marais. Site ornithologique.
Sainte-Luce
Sainte-Flavie
Centre d'interprétation du saumon de l'Atlantique
Nature paths. Exhibit on the preservation of Atlantic salmon.
---
From Sainte-Flavie to:

Sainte-Anne-des-Monts (segment 21)

Carleton via Causapscal (segment 25)
---