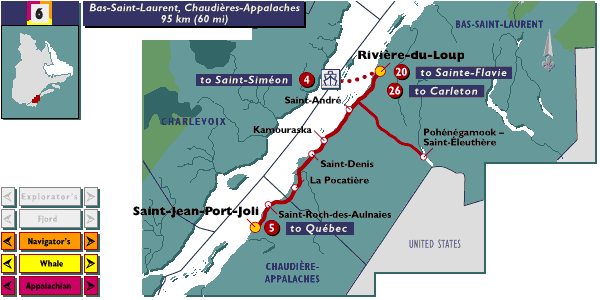 ---
From Rivière-du-Loup to:

Sainte-Flavie (segment 20)

Carleton, via le Nouveau-Brunswick (segment 26)
---
Segment 6: From Rivière-du-Loup to Saint-Jean-Port-Joli
Rivière-du-Loup
Heritage tour
Take a walking tour and discover the architectural heritage of Rivière- du-Loup.

Parc de la croix lumineuse
From this park with its illuminated cross, look out over the St. Lawrence River, which is 23 km (14 mi) wide at this point.

Waterfalls
Visit these 30-meter (98 ft) waterfalls in the heart of the city.

Cruises
Observe marine wildlife and bird colonies or visit the islands: Îles aux Lièvres, Îles du Pot à l'Eau-de-Vie (lighthouse, eider ducks), Les Pèlerins (razorbills and other nesting birds).

Pohénégamook,Sainte-Éleuthère
Lac Pohénégamook
Beach.

Saint-André
Centre d'interprétation de la batture de Kamouraska
Interpretation center offering hiking trails to discover the vegetation and wildlife of the St.Lawrence estuary.
Kamouraska
Distinctive traditional architecture
Charming riverside village containing several sumptuous 19th-century residences.
Saint-Denis
Aboiteau de la Seigneurie de Kamouraska
This interpretation center located on Kamouraska Bay will introduce visitors to the local dikes, vegetation and wildlife.
La Pocatière
Musée François-Pilote
Museum on Québec ethnology with a permanent exhibition on the country parish around 1900.

Concours hippique de La Pocatière
Equestrian competition, special entertainment and méchoui (September).
Saint-Roch-des-Aulnaies
Ancestral residences
Numerous grand old residences stand in the vicinity of the church (1849).

Seigneurie des Aulnaies
The major house, working mill, miller's house and garden introduce visitors to the seignorial era.

Saint-Jean-Port-Joli
Arts and crafts
Village long renowned for the work of its wood sculptors.

Maison-musée Médard-Bourgault
19th-century house, with walls and furniture carved by the outstanding artist.

Musée des anciens Canadiens
Museum describing the history of the region and of the sculptors who made it famous.
---
From Saint-Jean-Port-Joli to:
Québec (segment 5)
---