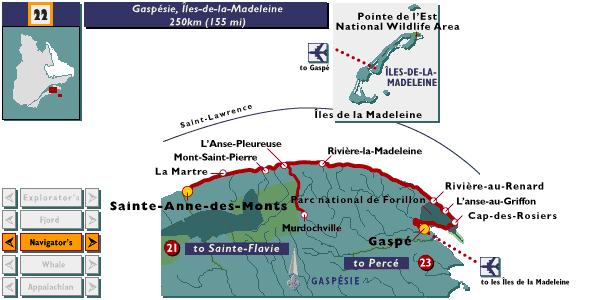 ---
From Sainte-Anne-des-Monts to:

Sainte-Flavie (segment 21)
---
Segment 22: From Sainte-Anne-des-Monts to the Îles-de-la-Madeleine
Sainte-Anne-des-Monts
La Martre
Lighthouse
Octagonal wooden lighthouse, built in 1906. Thematic exhibits.
Mont Saint-Pierre
Panoramic view from the mountain
Hang gliding and parachute gliding.
Murdochville
Centre d'interprétation du cuivre
Copper interpretation center provides exhibits on the region's mining history and a tour of a mineshaft.

Industrial tour
Tour of a copper mine operated by Mines Gaspé.
Rivière-la-Madeleine
Typical fishing village
Spectacular view of the coast near the old lighthouse.
Rivière-au-Renard
Centre et circuit d'interprétation des pêches contemporaines
Guided tour of modern fish processing facilities.
Parc national de Forillon (Forillon national Park)

Where the mountains meet the sea. Observation and interpretation of highly diversified wildlife and vegetation. Bird watching. Hiking trail. Fishing equipment and mountain bike rentals. Visitor reception centers in l'Anse-au-Griffon and Penouille. (7 km/4.5 mi form Cap-aux-Os)
L'Anse-au-Griffon
Picturesque village
A superb maritime setting contributes to the charm of this small fishing village.
Cap-des-Rosiers
Lighthouse
The tallest lighthouse in the country (37 m/122 ft), built in 1858.

Cruises
Observation and deep-sea fishing excursions.
Gaspé
Cathedral
The only wooden cathedral in North America.

Musée de la Gaspésie
Museum housing exhibits on the history of the peninsula. In the park nearby is the Jacques Cartier Monument National Historic Site, commemorating the cross erected by the French explorer in 1534.
Îles de la Madeleine
Archipelago linked by sans spits, and characterized by red sandstone cliffs, blue lagoons and emerald hillsides. Accessible by plane or ferry). Hiking trails. Water sports equipment and bicycle rentals. Deep-sea fishing, shoreline observation or excursions among the islands.

Beaches
Immense dunes of fine sand.

Réserve écologique de l'Île-Brion
Uninhabited island, home to 140 species of birds as well as lush and fragile vegetation.

La Grave Historic Site
Small pebble beach that serves as a favorite and lively meeting place for local fishers and business people. Outdoor cafés ans boutiques.

Lavernière Church
One of the largest wooden churches in North America.

Sand Castle Contest
Annual sand castle contest on Havre-Aubert beach. Open to all (August).

Festival du vol libre
International hang-gliding and parasailing contest, festivities and entertainment (July).
---
From Gaspé to:

Percé (segment 23)
---