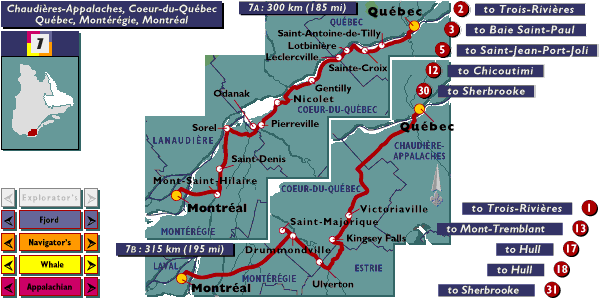 ---
From Québec to:
Trois-Rivières (segment 2)
Baie-Saint-Paul (segment 3)

Saint-Jean-Port-Joli (segment 5)

Chicoutimi (segment 12)

Sherbrooke (segment 30)
---
Segment 7: From Québec to Montréal
Two itineraries are suggested:
Saint-Antoine-de-Tilly
Rural architecture
A charming country inn and an octogonal barn.
Sainte-Croix
Typical village
Traditional architecture in a beautiful setting.

Domaine Joly de Lotbinière
Visit this 1840 manor house in its enchanting setting.

Lotbinière
Typical village
Neo-classic and French-style stone and wood houses.
Leclercville
Typical village
Old houses reminiscent of the seignorial system.
Gentilly
Gentilly-2 nuclear power station
The only nuclear power station operated by Hydro-Québec.
Nicolet
Religious and institutional architecture
Cathedral with attractive stained-glass windows and former seminary.

Musée des religions
Museum housing and exhibition on religious traditions.
Pierreville
Picturesque village
Old houses along the Rivière Saint-François.
Odanak
Abenaki Indian Reserve

Musée des Abénaquis
Museum devoted to native art and culture. Church decorated with sculptures.
Sorel
Old city
One of the oldest in Canada, situated at the mouth of the Rivière Richelieu.

Islands
Picturesque landscapes and bird watching.

Saint-Denis
Historic village

Maison nationale des Patriotes
Historic building and interpretation center on the history of the Patriote rebellion (1 hr).
Mont Saint-Hilaire
Centre de conservation de la nature
Nature trails through an unspoiled mature forest. Interpretation.
Victoriaville
Musée Laurier
Museum housed in the Victorian residence (1876) of Sir Wilfrid Laurier, the first French-Canadian to become Prime Minister of Canada.
Kingsey Falls
Industrial Tour
Visit the Cascades paper recycling plant. Also Parc Marie-Victorin, 12 hectares (30 acres) of grounds devoted to the appreciation of a variety of flowering plants and a center for education in conservation.
Ulverton
Picturesque village
Peaceful 19th-century hamlet in perfect harmony with the surrounding countryside.

Moulin Blanchette
Pre-industrial wool processing machinery (1850), still in operation. Magnificent gardens and paths.
Drummondville
Village québécois d'antan
Village with 70 typical buildings in which craftspeople re-create colonial times.


Drummondville World Folflore Festival
Outstanding folklore troupes from more than 20 countries perform in the streets and parks of the city, creating a thrilling, unique ambiance (July).
Saint-Majorique
Centre éducatif et forestier de La Plaine
This forest education center introduces visitors to the region's forest. Hiking trails.
---
From Montréal to:
Trois-Rivières (segment 1)
Mont-Tremblant (segment 13)
Hull, via Oka (segment 17)
Hull, via Saint-Faustin (segment 18)
Sherbrooke (segment 31)
---