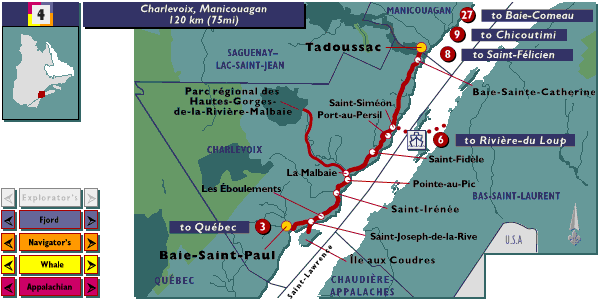 ---
From Baie-Saint-Paul to:
Québec (segment 3)
---
Segment 4: From Baie-Saint-Paul to Tadoussac
Baie-Saint-Paul
Picturesque town
Panoramic lookouts and numerous art galleries.

Centre d'art de Baie-Saint-Paul
Collection of paintings and handicraft by artists of the Charlevoix region.


Symposium de la jeune peinture du Canada
Annual international art exhibition and other cultural events (August).

Centre d'exposition
Brand new exhibition center where Québec artists can exhibit their works.

Rêves d'automne
Cultural and recreational activities in spectacularly beautiful Charlevoix (September).
Saint-Joseph-de-la-Rive
Exposition maritime
Former naval shipyard and schooners on display.

Papeterie Saint-Gilles
Craftspeople manufacture fine paper using a 19th-century technique
Île-aux coudres
Picturesque villages on a pastoral island. Interesting architecture, art and handicraft galleries.

Mills
19th-century water and windmills, still in operation.

Les Éboulements
Old village
Stone church and authentic blacksmith's shop.
Saint-Irénée
Domaine Forget
Old estate overlooking the St. Lawrence River. International classical music and jazz festival (June to August).
Pointe-au-Pic
Resort town
Canada's first summer resort.

Musée de Charlevoix
Museum housing an exhibit devoted to local history and popular art.
Parc régional des Hautes-Gorges-de-la-Rivière-Malbaie
A densely forested, mountainous park with steep glacial valleys, waterfalls and rivers. The highest face for rock climbing east of the Canadian Rockies. Hiking trails. Mountain bike and canoe rentals. Cruises on the Rivière Malbaie.
Saint-Fidèle
Centre écologique de Port-au-Saumon
Ecology center including a nature reserve and an educational center devoted to the preservation of the environment.
Port-au-Persil
Picturesque village
A charming hamlet snug between the St. Lawrence and a mountainous backdrop.
Saint-Siméon
Centre éducatif forestier les Palissades
In the heart of a very hilly landscape, this forest education center includes an interpretation pavilion and hiking trails (13 km) (8 mi) from Saint-Siméon.
Baie-Sainte-Catherine
Pointe-Noire
Lookout over the Fjord du Saguenay and the St. Lawrence River. Southernmost land-based beluga observation post.

Cruises
Take a whale-watching cruise on the St. Lawrence River or discover the fjord.
Tadoussac

Picturesque resort town
One of the first French settlements in North America.

Old chapel
The oldest wooden church in Canada (1747).

Maison Chauvin
Replica of the first fur-trading post, erected in 1600.

Fish hatchery
For Atlantic salmon.

Maison des dunes
Tadoussac dunes interpretation center.

Centre d'interprétation des mammifères marins
Interpretation center housing an exhibit on whales with commentary by naturalists.

Festival de la chanson québécoise
Five days of musical magic featuring talented regional and international songwriters, composers, singers and musicians (August).

Cruises
Take a whale-watching cruise on the St. Lawrence River or discover the fjord.
---
From Tadoussac to:

Saint-Félicien (segment 8)

Chicoutimi (segment 9)

Baie-Comeau (segment 27)
---