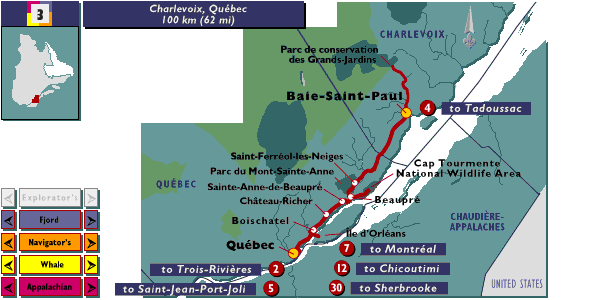 ---
From Québec to:
Trois-Rivières (segment 2)

Saint-Jean-Port-Joli (segment 5)
Montréal (segment 7)

Chicoutimi (segment 12)

Sherbrooke (segment 30)
---
Segment 3: From Québec to Baie-Saint-Paul
Boischatel
Chute Montmorency
One of the most impressive waterfalls in North America. At 83 m (272 ft), it is one and a half times higher than Niagara Falls.

Île-d'Orléans
An island sanctuary where four centuries of history are preserved. The largest historical district in Canada. The road around the island, linked to the north shore of the St. Lawrence by a bridge, is 70 km (44 mi) long.
Château-Richer
Centre d'interprétation de la côte de Beaupré
Interpretation center portraying the history and development of the Côte-de-Beaupré.
Sainte-Anne-de-Beaupré
Sainte-Anne-de-Beaupré Basilica
This pilgrimage site dedicated to the mother of the Virgin Mary receives more than one million visitors annually.

Beaupré
Grand canyon des Chutes-Sainte-Anne
74-meter (243 ft) waterfalls and suspended bridge.
Cap Tourmente National Wildlife Area
Snow Goose migration area (mid-April to mid-May and October). Interpretation center.
Parc du Mont-Sainte-Anne
Mountain park with panoramic cable car rides. Mountain bike rentals.
Saint-Ferréol-les-Neiges
Les Sept-Chutes
Canyon and 130-meter (427 ft) waterfalls. Hydroelectric generating facilities and interpretation center.
Baie-Saint-Paul
Picturesque town
Panoramic lookouts and numerous art galleries.

Centre d'art de Baie-Saint-Paul
Collection of paintings and handicraft by artists of the Charlevoix region.

Symposium de la jeune peinture du Canada
Annual international art exhibition and other cultural events (August).

Centre d'exposition
Brand new exhibition center where Québec artists can exhibit their works.

Rêves d'automne
Cultural and recreational activities in spectacularly beautiful Charlevoix (September).
Parc de conservation des Grands-Jardins
Park offering a sampling of Québec's Far North. Fascinating vegetation and wildlife. Hiking trails. Mountain bike and canoe rentals. Thomas-Fortin visitor reception center: 30 km (19 mi) from Baie-Saint-Paul.

---
From Baie-Saint-Paul to:
Tadoussac (segment 4)
---