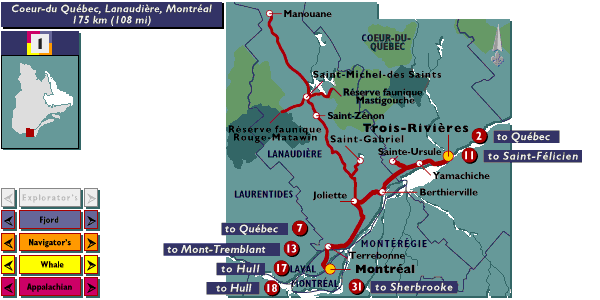 ---
From Montréal to:
Québec (segment 7)

Mont-Tremblant (segment 13)

Hull, via Oka (segment 17)

Hull, via Saint-Faustin (segment 18)

Sherbrooke (segment 31)
---
Segment 1: From Montréal to Trois-Rivières
Terrebonne
Vieux-Terrebonne
Old working-class quarter on the riverside.

Île des Moulins
Several 19th-century structures, including three mills, adorn this picturesque little island.
Joliette
Festival international de Lanaudière
One of the largest classical music festivals in Canada (Late June to August).

Musée d'art de Joliette
Museum housing Canadian art and Québec religious art.

Saint-Gabriel
Lac Maskinongé
Beach. Water sports equipment rentals.

Saint-Zénon
Lookout
At 750 m (2 460 ft), the highest village in Québec.

Sept-Chutes trails and lookout
Panoramic hiking trails in a mountainous landscape with spectacular views of the glacial valley.
Saint-Michel-des-Saints
Réservoir Taureau
Lake with beautiful beaches.
Réserve faunique Rouge-Matawin
This wildlife reserve is home to one of the largest moose populations in Québec. Visitor reception center: 26 km (16 mi) from Saint-Michel-des-Saints. Unpaved roads in the reserve.
Réserve faunique Mastigouche
This wildlife reserve has excellent speckled trout fishing and is a bird and animal sanctuary. Canoe rentals. Visitor reception center (22 km) (14 mi) from Saint-Michel-des-Saints.
Manouane
Atikamek Indian Reserve
Native handicrafts.
Berthierville
Picturesque town
Small town beside the St. Lawrence River.

Cuthbert Chapel
The oldest Protestant church in Québec, built in 1786.

Îles de Berthier
Bird sanctuary. Cruises on the St. Lawrence River and among the islands.

Musée Gilles-Villeneuve
Museum housing an exhibition of cars driven by this renowned racing car champion, trophies and other memorabilia.
Sainte-Ursule
Parc des chutes Sainte-Ursule
Park with 70-meter (230 ft) waterfalls and hiking trails.
Yamachiche
Rural architecture
Red brick Victorian-style houses.
Trois-Rivières
Vieux-Trois-Rivières
Old part of the city, with buildings dating back to the 18th and 19th centuries.

Musée d'archéologie
Archaeological museum with exhibits on fossils and human evolution and on French, Québec and Amerindian history.

Centre d'exposition sur l'industrie des pâtes et papiers
Learn about the local pulp and paper industry and economy. The center is located in the Parc portuaire (harborfront park).

Trois-Rivières Player's Grand Prix
International-caliber Trans-Am and other races through the streets of the city (August).

Forges du Saint-Maurice National Historic Site
See the remains of the first iron foundry in Canada (1730). Interpretation center.


Cruises
On the St. Lawrence River.
---
From Trois-Rivières to:
Québec (segment 2)

Saint-Félicien (segment 11)
---